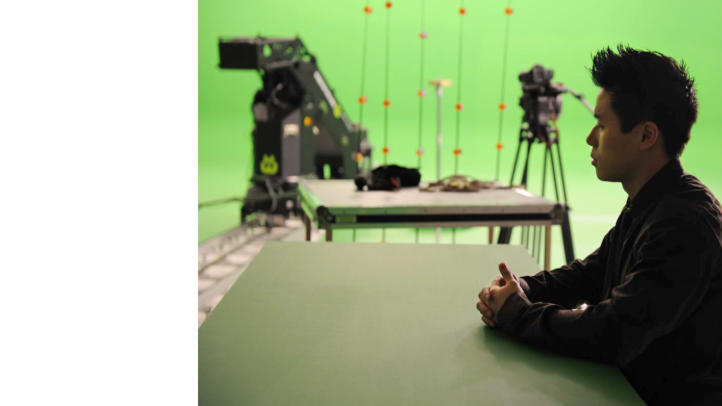 FAQ
1. Why motion control?
Motion control allows for moving shots with precision that cannot be achieved manually - the key to perfect VFX.
Motion control robots ensure precise camera movements and repetition of exactly the same movement.
Programmed camera movement as well as positions of zoom, aperture and focus can also be run at various speeds. Recorded camera movement data can be transferred into and applied from all 3D animation programmes. Real pictures can be combined easily with 2D and 3D objects. Previsualisation of motion control shots in Maya or 3DS Max is a cinch. What you see is what you get.
Motion control calls for creativity.
Because there is no limit to the range of applications.
2. What can motion control do?
Motion control refers to computer controlled camera movement. Many cinematic effects cannot the created without the robot's ability to precisely repeat camera movements:
2.1 Actor – multiplication
Duplicating actors or objects in a take using a moving camera.
The most famous examples for this technique are the music videos of George Michael "AS" and Kylie Minogue "Come into My World".
2.2 Extras – multiplication
You are supposed to fill all spectator seats in a theatre or an entire stadium. However, for financial reasons only a few extras are to be used. What now? Motion control provides the option of multiplication. Extras are positioned in the seats block-by-block and recorded as many times it takes to fill all seats. In post-production all layers can be combined. Inexpensive and effective.
2.3 Actors or objects appearing and disappearing
No problem when it's a still! However, these types of shots are really impressive when taken as tracking or pan shots. Motion control to the rescue.
2.4 Changing backgrounds
Take a car that first drives through a large city. You can change the car's environment within the shot, such as turning the large city into a forest or coastal road.
To achieve this effect the shot is repeated three times. Once in the city without car, once in the forest without car. Then the car is filmed in the green or blue screen.
2.5 Variable frame rate
A table in a cosy café. In the background the hectic day-time traffic on the street. Filmed with standard frame rate. Coffee being poured at 40 frames/sec and the rising steam at 32 frames/sec. The mix obtained by combining the frame rates produces a calm coffee pouring process; thus, it appears to be more relaxed.
2.6 Time slice shots
Time slice shots can be produced in a simple way, too: Actors' movements are filmed at 24/25 frames per second. On the other hand, people standing still are run at a very high frame rate.
2.7 Stop motion shots
The classic among tricky techniques is still used with puppets, modelling material or objects. With motion control you can use these trick-techniques in moving settings.
2.8 Time lapse shots
Whether it's a plant opening up its blossom, a dramatic cloud formation or a simple sunset – time-lapse shots are fascinating. Motion control allows for camera moves demonstrating these events in impressive motion.
2.9 Macro- and boroscopic shots
Using conventional means, smooth panning and tracking close-up are nearly impossible. Special lenses such as boroscopes, periscopes or macroscopes are practically predestined for use with precise motion control robotics.
2.10 Vertigo effect
Motion control is ideal for tracking shots in combination with zooming to balance dimensions.
2.11 Light design
Motion control robots allow for light design without compromising: Several tracking shots with identical moves let you compose different lighting conditions. Film lights can be set up within framing, for instance, and can be easily removed during post-production by retouching.
2.12 Precision shots
Complicated camera runs can only be approximated "by hand". A robot delivers the perfect take with reproducible precision. A cost-saving alternative to conventional filming.
2.13 Modelmover
Modelmover facilitates precise movement of objects in conjunction with motion control shots.
2.14 Scaling shots and model takes
With motion control you can create perfect montages of image elements on various scales. Thus, a trip through a model of architectural features filmed with a snorkel lens can be combined with real actors. Based on the scale, the motion control system calculates the same camera motion in the real world.
2.15 Target tracking
With target tracking the system can be programmed so that a specific spatial point is always kept precisely at the centre of the image. In the process, the focus is carried along accurately at any time. Even moving targets are possible.
2.16 Perfect pack shots
By programming all parameters you can take high-precision pack shots that require accurate focus updates all the way into the macro area.
2.17 Stereoscopic shots
When using a stereoscopic rig, a second camera is not absolutely required to produce stereoscopic shots without live action. The motion control rig lets you repeat the camera movement with the required offset.
3. Mark Roberts technology
In 1999, Mark Roberts, the producer of our motion control robots was honoured with the Scientific and Engineering Award.
Mastermoves has many different motion control systems available: From MILO LONG ARM, the largest portable MoCo rig through to the compact STEREORAIL and SFH-30 for use in tight spaces.
Like no other, FLAIR, Mark Roberts' control system software, continuously developed over decades, provides all control parameters for motion control shots in a way that is user-friendly, uncomplicated and fast. With a few clicks, FLAIR lets you record or programme and run complex camera moves and takes. A built-in module enables previsualising runs directly in the system. It also offers partial sequences referred to as part-runs or passes at different speeds. Motion data can be transferred into 3D software and applied from there.
4. How precise is motion control?
Motion control rigs are equipped with optical encoders. These encoders measure the revolutions of each drive axle to a thousandth of a millimetre – more precise than can be captured by the human eye or on film.
5. Are motion control rigs portable?
Yes. You can get the information about dimensions and weights of individual motion control rigs from the spec sheets on our website.
moco2go.
6. How long does it take to set up?
Set-up takes between 1 and 3.5 hours, depending on the motion control rig used and the surface.
7. What cameras can I use?
Our motion control rigs can be used with any standard camera including RED EPIC, ARRI Alexa, DSLRs as well as high speed cameras such as Phantom Flex 4K. Stereoscopic camera systems can be used as well.
8. How do I programme a motion control run?
Choose from the following options to programme a motion control run:
8.1 Manually programmed move:
The motion control rig is moved into the desired position (start of camera movement). This position along with all parameters are stored as the key frame. The desired end position is detected and stored as well. Finished! Merely connecting these camera positions already defines a simple camera movement. More complexity may be added to the camera movement by inserting additional key frames.
FLAIR motion control software links all key frames in an even curve. Once speed of motion and frame rate are set, the camera run is "ready to shoot".
This kind of programming takes only a few minutes.
8.2 Mimic move:
The Mimic (pan head with encoders) lets you record "hand-made" pans or runs. Just like a digitally programmed move, this motion can be run repeatedly and at variable speeds. Recorded camera movements can be modified and "smoothed" afterwards.
This, too, takes only a few minutes.
8.3 CGI import:
A move programmed in 3DS Max or Maya can be imported directly into the FLAIR motion control software. The motion control rig allows for exact repetitions of even highly complex camera paths.
9. How long does it take to programme a motion control run?
It depends on the motion complexity; however, usually camera positions are programmed in only a few minutes.
10. Is it possible to apply movements of pre-produced camera runs for motion control takes?
Yes, motion data can be precisely determined and further processed with 3D tracking software such as "matchmover".
11. Am I able to check right on the set whether an effect I already filmed is working?
Our customers enjoy certainty on the set thanks to direct image control. Using a video mixer you can evaluate the camera image and its precise fit in combination with other layers as early as on location.
12. What is the advantage of motion control in post-production?
Motion control truly gets to be fun in post-production. With multilayer shots, the individual passes are laid on top of each other in synchrony. The bloop light, an LED flash emitted by the system on the same frame of a run every time, similar to an electronic shutter.
Since camera movements and perspectives can be exported from the motion control software into post-production, adding CGI back- and foregrounds is a cinch. It saves time and money.
13. How is the CGI integrated?
FLAIR offers the option of unrestricted motion data exchange with any standard 3D programme (Maya, 3DS Max, Softimage/XSI, Alias Power Animator, Lightwave, Flame,…).